Our Music School
514.376.8742
Rent an instrument starting at $12/month!
Benefit from a great Rent-To-Own Program.
Exclusively for the Montreal Academy of Music Students:

Want to try out an instrument before buying? Our Rent-to-Own program allows you to buy out (or return) your rental at any time. If you decide to buy your rental within the first three months, we'll apply 100% of your payments towards the purchase price..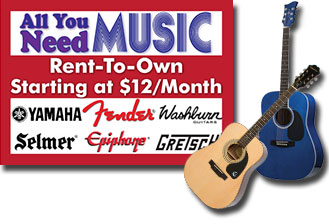 Even if you decide to return the instrument, we'll still give you a credit worth 50% of your rental payments to be used towards the purchase of another instrument (of equal or greater value). It's a no risk, cost effective way to try out a variety of different instruments!
All instruments are hand selected and approved by a team of Certified Academy teachers which guarantees quality, dependability and price.
Academy students save up to 20% off any advertised purchase price. Contact us today to inquire about any of our programs or for any questions related to your Academy student discount!
Contact us
today or ask us about your rental options:

All You Need Music
Visit the Academy's official Montreal Music Store
Montreal Music Store
,
All You Need Music
, and Shop Online 24/7 for instruments, recording gear and accessories shipped across Canada. Free shipping available!
Our Music Store: Your Educational Rates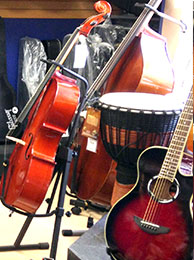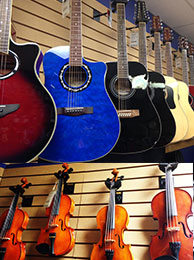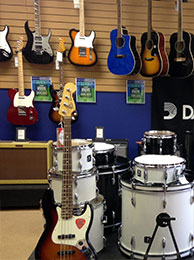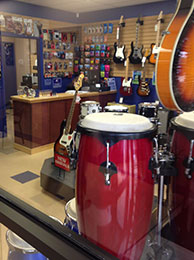 Take advantage of an Academy student discount
at our partner
music store
,
All You Need Music
, and save up to 20% off any purchase.
Le Magasin de L'Academie is an authorized Canadian dealer of thousands of high quality brand name instruments, pro audio equipment, accessories, DJ gear and more, carrying all the top brand names including
Yamaha, Ibanez, Washburn, Squier, Gretsch, Epiphone, Selmer, Sabian, Zildjian, Stentor, Casio, Vox, Shure
and more.
Whether you're looking to buy a Guitar, Violin, Bass, Drums, Keyboard, Saxophone, or Pro Audio equipment, Le Magasin de L'Academie will offer you competitive student rates.
Academy students save a minimum of 10% off any advertised purchase price. Contact us today to inquire about any of our programs or for any questions related to your Academy student discount! 1.888.977.MUSIC