Group Music Lessons
Objective: To benefit from the experience of singing in a musical group of your level and style while developing valuable and versatile vocal skills. Children's as well as adult groups will be available.
R&B Group:

R&B, Pop, Rock-Teen favourite!

Montreal Academy of Music Vocal Group:

All Styles. All Ages.

Lesson Activity:
Performing in a wide variety of musical styles.  We focus on vocal harmony, range, breathing and proper vocal support within a group setting.  These classes have become a source of motivation and inspiration for everyone!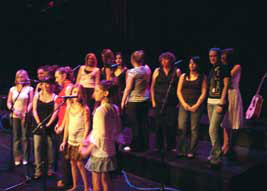 Performance:
Concerts at special events and at our
Student Concerts
series.
Please note that all ensemble(group) courses are available upon sufficient registration.