Professional Musicians for Your Special Events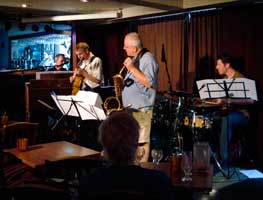 Academy teachers are professional musicians
performing regularly across Canada.
You may hire a
soloist, duo, trio, quartet or band
for your special event or ceremony.
Musical styles include
Classical, Jazz, Top 40, Broadway
and more. Rates are reasonable.
Client Feedback
"I can't say enough
for the musiciains you provided for my proposal. Michael and his companion absolutely made the moment and the moments after very, very special for us. We've had so much fun telling everyone about the proposal ... and the music element gets people every time. The fact that they can learn songs that are personal to individuals made a world of difference to me, and made the money so worth it. Thanks for working with me on this!" / Ryan Burleson
"Words cannot express
how thankful we are to you, Talia, Mike, Max and Perry for a great and wonderful weekend of music. The audience themselves have expressed how much they enjoyed the show. I got home to at least 10 voice message on my phone and more on my cell the following day. Like us, they were impressed with how you and the artists connected - knowing that you only met the day before for the first time. I want you to know, that we would like to work with you again in our up-coming projects. I ho pe you are open to it. On behalf of PMG, please pass on my heartfelt thanks to the rest of the band and Perry." Elizabeth Cambalizia, Premier Management
The Academy provided professional musicians for Premier Management's concert with multi-platinum award-winning artist, David Pomeranz (Missy Elliot, Barry Manillow).
"Everything went very well
with the duo for our reception, their performance was wonderful; they added the perfect mix of energy and background, contributing to a very successful event!  Thank YOU for your quick action and response to my request, you were a pleasure to work with. RCC hosts many other events throughout the year, I'll certainly keep MONTREAL ACADEMY OF MUSIC top of mind for any future requirements as well as for next year's reception." Wendy, Retail Council of Canada
To find an Academy teacher near you: